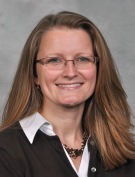 Alison B McCrone, MD, FAAP
A Message From the Medical Director
Welcome to Upstate Pediatric After Hours Care
Thank you for visiting us. At pediatric After Hours Care, our mission is to provide excellent care for your ill or injured child when you need us most: after hours! Our friendly staff is available evenings and weekends to take care of your child's urgent medical needs. We understand that kids have different needs than adults and deserve specialized care.
Whether it is a cut on your child's forehead or a rash that just appeared, we are here to help. We have a full complement of laboratory and radiology services available on site if needed. For truly life-threatening emergencies, there is no better place to take your child than the Pediatric Emergency Department at Upstate University Hospital. For all minor injuries and illnesses, come see us at After Hours Care.
From the bright Golisano Children's Hospital theme in our waiting room to our silly activity mirrors, our center is truly geared to make your visit convenient and comfortable. We work closely with your child's doctor to keep them up to date on the care we have provided and send a summary of your child's visit with us the same day. We strongly support the American Academy of Pediatrics position on maintaining a "medical home" for your child and believe that all well child examinations should be taken care of by your primary physician. At Upstate Pediatric After Hours Care, we truly love taking care of kids and appreciate you choosing us to help care for your child. We look forward to seeing you again!
Thank You!

Alison McCrone
Dr. McCrone completed a residency in pediatrics and a fellowship in pediatric emergency medicine at the Women and Children's Hospital of Buffalo. She is board certified in pediatrics and subspecialty board certified in pediatric emergency medicine. In addition to being the medical director of Upstate Golisano After Hours Care, she is an attending physician in the pediatric emergency department at Upstate University Hospital. She can be reached at:
mccronea@upstate.edu