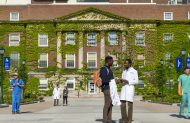 College of Medicine—Estimated Cost of Attendance 2012-2013
Medical Students pay the following annual tuitions:
Full Time
(12 or more Credits Per Term)
Part Time
(1 to 11 Credits Per Term)
NYS Resident
Non-Resident
NYS Resident
Non-Resident
MD
$29,530
$54,650
$1,230/credit
$2,277/credit
MPH
$ 9,370
$16,680
$390/credit
$695/credit
Fees
The following fees are charged annually to all students. Some students may pay additional fees depending on their program and year of study.
| | |
| --- | --- |
| Activities Fee | $130 |
| Health Services Fee | $215 |
| Disablity Insurance Fee | $65 |
| SUNY College Fee | $25 |
| Technology Fee | $215 |
College of Medicine
NOTE : US Medical Licensing Examination application fee (excluding the MPH Program):
Step 1 (at the end of the MS 2 year) - $525.00

Step 2 Clinical Knowledge (MS 4 year) - $790.00/Clinical Skills $1,645

Books and Supplies
Costs for books and supplies vary by program and range from approximately $1,000 to $1,300 per year.
College of Medicine
NOTE:
Diagnostic equipment for first year students — estimated cost $952.00.
Microscope rental for first and second year students — $60.00.
Estimated Living Expenses
We estimate monthly living expenses for students to be:
Room & Utilities (per month)
$900
Food (per month)
$465
Personal (per month)
$191
Travel (per month)
$233
Note: Travel for MS 3 & 4:

$455/mo—Syracuse Campus Students
$515/mo—Binghamton Clinical Campus
Miscellaneous
Note: All students are required to have Health Insurance, either through their parents, spouse, employer, or on their own. A student policy is available through the University.
David B. Duggan, MD, MACP
Dean, College of Medicine
I am particularly honored to serve as Dean of the College of Medicine. As an alumnus of the Class of 1979 and a member of the faculty since 1986, I have been extraordinarily pleased at the growth of the Medical School over this time and proud of the work of its faculty and graduates.
---