ONE STUDENT'S STORY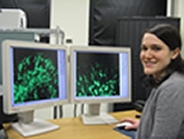 Anna Nichols
Class of 2012

'Striking a Balance' in the MD/PhD Program
With two years of medical school and a doctorate from Upstate already on her resume, MD/PhD student Anna Nichols (pictured above) has transitioned to the final two clinical years of the program. Nichols will earn a dual MD/PhD degree, and start on a career that she hopes will "strike a balance" between research and clinical practice. Read more...
Content
Gold Humanism Honor Society
"The Society honors senior medical students for demonstrated excellence in clinical care, leadership, compassion and dedication to service. The Society was organized to elevate the values of humanism and professionalism within the field of medicine and its constituent institutions. Candidates are nominated and then elected by peers within their class. Up to 15% of the class at each campus is eligible. Election of exemplars to the Gold Humanism Honor Society makes a significant statement to medical school faculty, students, and the public that an institution places high value on the interpersonal skills and attitudes that are essential for excellent patient care" (http://www.humanism-in-medicine.org/

).
Student Members