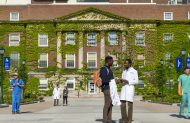 Contact Us
The Office of Student Admissions welcomes your interest in Upstate Medical University.
For additional information regarding the College of Medicine, you may contact us at:
Email: admiss@upstate.edu
Phone: 315 464-4570 or 800 736-2171
Mail:
Student Admissions
1215 Weiskotten Hall
766 Irving Avenue
Syracuse, New York 13210
Request MORE INFORMATION about the College of Medicine.
We look forward to working with you!
David B. Duggan, MD, MACP
Dean, College of Medicine
I am particularly honored to serve as Dean of the College of Medicine. As an alumnus of the Class of 1979 and a member of the faculty since 1986, I have been extraordinarily pleased at the growth of the Medical School over this time and proud of the work of its faculty and graduates.
---