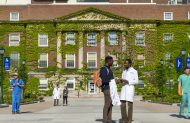 Welcome to the College of Medicine at SUNY Upstate Medical University
SUNY Upstate Medical University is the only academic medical center in Central New York. Clinically, we serve 1.8 million people in an area that covers one-third of the state's land mass. We offer students a rich academic environment with four colleges and a rapidly expanding biomedical research division.
Contact:
Office of Student Admissions
Location:
1215 Weiskotten Hall
766 Irving Avenue
Syracuse, New York 13210
Phone:
315 464-4570 or 800 736-2171
Email:
admiss@upstate.edu
Many graduates who have been through our program—and we currently have more than 6,500 physicians across the country—cite the fact that SUNY Upstate faculty care deeply about each student's success. This personal approach to education, combined with skilled teaching, ensures that medical students are well supported to meet their goals.
David B. Duggan, MD, MACP
Dean, College of Medicine
I am particularly honored to serve as Dean of the College of Medicine. As an alumnus of the Class of 1979 and a member of the faculty since 1986, I have been extraordinarily pleased at the growth of the Medical School over this time and proud of the work of its faculty and graduates.
---