Profile: Paula F. Rosenbaum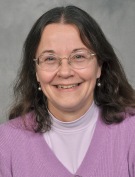 Paula F. Rosenbaum, PhD is an Associate Professor of Public Health and Preventive Medicine at SUNY Upstate Medical University and the Epidemiologist at the Center for Research and Evaluation. Dr. Rosenbaum holds a PhD in Epidemiology and Community Health from the University at Buffalo and received additional training from the New England Epidemiology Institute at Tufts University. She also holds a MS degree in Epidemiology from the University at Buffalo and a MLS in Information Studies from Syracuse University. Her undergraduate degree is in Biology from Syracuse University.
Before joining the Center for Research and Evaluation, Dr. Rosenbaum was a Research Assistant Professor in Upstate's Department of Physical Medicine and Rehabilitation working on two funded projects from the Centers for Disease Control & Prevention concerning women with disabilities. She also worked as an epidemiologist in the Environmental Science Center, Syracuse Research Corporation and was a Clinical Research Associate at Bristol Myers, working in their clinical cancer group prior to obtaining her doctorate.
Current research projects, in the role of co-investigator, include an indoor environmental quality study among rural elderly with diabetes and other chronic diseases, two pediatric studies assessing indoor environmental quality and respiratory health including symptoms and triggers of asthma, and a study of selenium levels, malaria history and Epstein Barr virus load in Kenyan children. Dr. Rosenbaum also is a member of the University-Community Consortium for Anniston Environmental Health Research; this group is evaluating the effects of polychlorinated biphenyl exposure on multiple health outcomes of residents of Anniston, AL. In summary, her research interests include both pediatric and adult cancers, women's health, and the role of environmental exposures in reproductive health, endocrine diseases and immunologic disorders, including allergies and asthma.