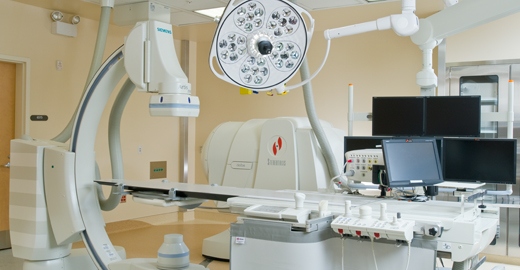 Stereotaxis Magnetic Navigation System
The Stereotaxis Magnetic Navigation System, now available at the Upstate Heart & Vascular Center, assists in the diagnosis and treatment of both common and complex cardiac arrhythmias.
Through precise catheter positioning, often in hard to reach regions of the heart, the system uses computerized magnetic navigation to guide the catheter to the region of the heart requiring treatment. In a treatment procedure called ablation, the vulnerable circuit of arrhythmia is disabled by a burst of radiofrequency energy that is aimed at small areas of heart tissue that give rise to abnormal electrical signals. Normal rhythm pattern is restored.
The traditional procedure uses relatively inflexible catheters which are manually guided into the blood vessels and then to the heart muscle. Of paramount concern is the potential for damaging heart structures which can happen when the procedure encounters a complex heart chamber anatomy.
The computer-guided magnetic navigation system, on the other hand, features a catheter that is softer and far more flexible which reduces the potential for distorting or damaging the heart wall. It also uses computer mapping and magnets which guide the catheter to its target and enable it to safely traverse the vessels and the heart muscle. The softer, more flexible catheter cannot be used in traditional ablation procedures because it is too flexible to be guided manually.
Key Benefits
Improved safety and outcomes for patients with common and complex arrhythmias
Shorter procedure time with less radiation exposure and shorter hospital stays because the treatment is less invasive, particularly for complex arrhythmias
Increased likelihood that patients with highly complex arrhythmias can be successfully treated