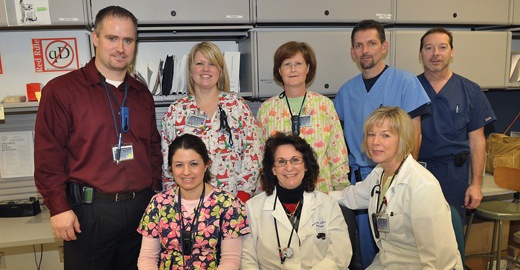 Echocardiography/Stress Test Laboratory
Location:
Heart & Vascular Center
6th floor, University Hospital
750 E. Adams St, Syracuse, NY 13210
Phone:
315 464-5735
Fax:
315 464-5968
The echo lab at Upstate is staffed by 6 Echocardiographers that are Registered Diagnostic Cardiac Sonographers with over 100 years combine experience in adult echocardiography, 2 RN's and a receptionist.
Our hours of operation are Monday–Friday 7:30am–4:30pm, Saturday and Sundays 8am–noon for inpatients only, all other off hours are covered by cardiology fellows for urgent cases only.
We service the adult population (18 yrs and up) and perform the following test types: Stress Echocardiography, Dobutamine Stress Echocardiography, Transthoracic Echocardiography, Transesophageal Echocardiography and with the cooperation of the Nuclear Medicine Department, the stress portion of nuclear stress testing. We are currenlty located on the 7th floor in University Hospital but by 2011 we will be located in the newly renovated Heart and Vascular Institute on 6 west which will include our Stress Echo Lab, the EKG department, one Cath Lab, one EP lab and a hybrid cath/vascular lab. Our echo techs cover University Hospital, UHCC Cardiology and Manlius. We average about 7000 procedures per year and our volumes continue to increase.