Advocacy and Education Through Art
Education is the cornerstone of cancer prevention in our society. Head and neck cancer has seen an alarming increase in cases – especially those linked to the Human papillomavirus (HPV). Upstate has been instrumental in the care and prognosis of head and neck patients in CNY and a team of interested personnel, patients, and volunteers have developed a creative way to educate the community on the disease.
In order to administer the radiation, each patient must be fitted with a polymer mesh mask that conforms to their head and neck. Once the treatments are finished, the mask is either given to the patient or, in most cases, destroyed. In other parts of the country these masks have become canvases for unique and creative art and subsequently opportunities for education.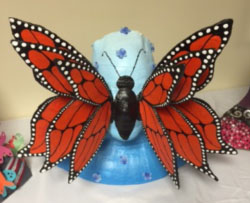 Beneath the surFACE
Beneath the surFACE is a program where students will be allowed to take creative license in the creation of masks through their art classes and learn about Head and Neck cancer. Canvases of the radiation masks make for a unique display of what patients might experience during their treatment. The masks will then be considered for an auction in order to raise funds for patients of Head and Neck Cancer. The auction will be held in the Upstate Cancer Center.