618 Irving Ave.
Syracuse, NY 13210
(315) 464-5404
Staff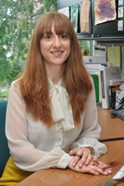 Jessica DeJohn Barbuto - Staff Assistant
Jessica joined the Center in August of 2010, and serves as Staff Assistant. She comes to the Center with office experience in the fields of psychology, law, and most recently the non-profit sector. Jessica is responsible for coordinating office projects, managing the Center's staff and adminstratively assists Dr. Faber-Langendoen.
Lois Dorschel - Secretary I
Lois is the secretary at the Center. She manages a number of the Center's projects: the Bruce Dearing Writing Awards; Coordinator for the Consortium for Culture and Medicine (a cooperative curriculum program between Le Moyne College, Syracuse University and SUNY Upstate Medical University, a component of the Center for Bioethics and Humanities); Managing Editor for CBH's journal, The Healing Muse and assists with the Ethical, Legal, and Social Issues of Medicine course (ELSIM) and the Health Care Ethics course.
Lauren Wetterhahn, MPH - Research Assistant
Lauren joined the Center in January 2014 as Research Assistant. Her main duties include supporting the Center faculty's research interests, providing instructional support and technical assistance for the Health Care Ethics course; and serving as Editorial Assistant for The Healing Muse. She is a recent graduate of the Central New York Masters of Public Health joint program of SUNY Upstate and Syracuse University, where her own research focused on health disparities and public policy.
The Healing Muse:
Submissions accepted annually September 1 through May 1.