WELCOME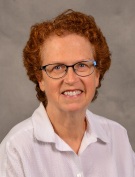 Patricia Kane, PhD
Chair and Professor

The central goals of scientists in the Biochemistry and Molecular Biology department are to research fundamental mechanisms in cells and organisms at the molecular level and to train the next generation of scientists. Read More...
Content
News and Events
Biochemistry Calendar
Awards & Recognition
Patty Kane received the SUNY Distinguished Teaching Professorship, the highest SUNY Academic Rank.  Dr. Kane was nominated by Subhrajit Banerjee, while both Swetha Devi Velivela and Michael Jaskolka supported the nomination
Stewart Loh was awarded a $75K NIH grant to replace a stop-flow flourescence instrument that he bought from his start up when he first came to Upstate. It was the first and most expensive piece of equipment he has ever bought. His lab published many papers at Upstate using data from that old instrument including their very first one in Nature Structural Biology
Ashley Canning won second place for her poster at the Biomedical Sciences Retreat on September 15, 2016
Congratulations to Yaxin Liu, Graduate Assistant, who was awarded the 2016 John Bernard Henry MD Endowed Scholarship Award for her manuscript entitled "Misfolding of mutant adenine nucleotide translocate in yeast supports a novel mechanism of Ant1-induced muscle diseases".  She was also awarded the College of Graduate Studies Graduate Student Association 2016 Professional and Public Service Award.  She received the awards at the May 22, 2016 College of Graduate Studies Commencement.
Congratulations to MD/PhD student, Rebecca Sager, who won a Young Investigator Award for cancer research. For article in Upstate Online, go here .
Stewart Loh's lab was featured in the Fall 2015 issue of Cancer Care and on the Whats Up at Upstate blog.  The article was entitled "Will zinc be an element of future cancer treatment".  The full article can be found here .
After 41 years of service to Upstate, Dr. Richard Cross retired effective December 31, 2014.  He will be appointed Emeritus SUNY Distinguished Professor and will continue to do some teaching and committee assignments.
Yaxin Liu was awarded a Keystone Symposia Future of Science Fund scholarship ($1200) which she will use attend the upcoming Keystone Symposia on "Mitochondrial Metabolism and Heart Failure", January 27-February 1, 2015, in Santa Fe, New Mexico.
Dr. Bruce Knutson joined the Department as an Assistant Professor effective September 2, 2014. You can read more about Bruce and his research on his faculty page.
Publications
Motahari Z, Martinez-De Luna RI, Viczian AS, Zuber ME. Tbx3 represses bmp4 expression and with Pax6 is required and sufficient for retina formation.  Development. 2016 Aug 30 [Epub ahead of print]
Oberoi J, Dunn DM, Woodford MR, Mariotti L, Schulman J, Bourboulia D, Mollapour M, Vaughn CK.  Structural and functional basis of protein phosphatase 5 substrate specificity.  Proc Natl Acad Sci U S A 2016 Aug 9; 113 (32): 9009-14
Jiang L, Xu D, Namitz KE, Cosgrove MS, Lund R, Dong H.  Protein-like Nanoparticles Based on Orthogonal Self-Assembly of Chimeric Peptides. Small 2016 Aug 9  [Epub ahead of print]
Jie Peng and Wenyi Feng.  Incision of damaged DNA in the presence of an impaired Smc5/6 complex imperils denome stability.  Nucleic Acids Research (2016) doi: 10.1093/nar/gkw720
Woodford MR, Dunn DM, Blanden AR, Capriotti D, Loiselle D, Prodromou C, Panaretou B, Hughes PF, Smith A, Ackerman W, Haystead TA, Loh SN, Bourboulia D, Schmidt LS, Marston Linehan W, Bratslavsky G, Mollapour M.  The FNIP co-chaperones decelerate the Hsp90 chaperone cycle and enhance drug binding.  Nat Commun. 2016 Jun 29; 7: 12037.
Oaks Z, Winans T, Caza T, Fernandez D, Liu Y, Landas SK, Banki K, Perl A.  Mitochondrial dysfunction in the liver and antiphospholipid antibody production precede disease onsiet and respond to rapamycin in lupus-prone mice.  Arthritis Rheumatol. 2015 June 22. doi: 10.1002/art.39791. [Epub ahead of print]
Oot RA, Kane PM, Berry EA, Wilkens S.  Crystal structure of yeast V1-ATPase in the autoinhibited state.  EMBO J. 2016 June 13. pii: e201593447. [Epub ahead of print]
Zafreen L

1

,

Walker-Kopp N

1

,

Huang LS

1

,

Berry E

2

.  

In-vitro, SDH5-dependent flavinylation of immobilized human respiratory complex II flavoprotein.  

Arch Biochem Biophys.

2016 Jun 11;604:47-56.  doi: 10.1016/j.abb.2016.06.006. [Epub ahead of print]  http://www.ncbi.nlm.nih.gov/pubmed/27296776?dopt=Abstract
Knutson BA, Smith ML, Walker-Kopp N, Xu X.  Super elongation complex contains a TFIIF-related subcomplex.  Transcription, 2016 May 25:e1194027

Kane PM. (2016) "Proton Transport and pH Control in Fungi".  Adv Exp Med Biol. 892: 33-68

Christian Heiss, Zhirui Wang, Ian Black, Parastoo Azadi, Raina N. Fichorova, Bibhuti N. Singh. (2016) "Novel structural features of the immunocompetent ceramide phospho-inositol glycan core from Trichomonas vaginalis".  Carbohydrate Research 419: 51-59.
Raina N. Fichorova, Hidemi S. Yamamoto, Titilayo Fashemi, Evan Foley, Stanthia Ryan, Noah Beatty, Hassan Dawood, Gary R. Hayes, Guillaume St-Pierre, Sachiko Sato and Bibhuti N. Singh. (2016) "Trichomonas vaginalis Lipophosphoglycan Exploits Binding to Galectin-1 and -3 to Modulate Epithelial Immunity".  J. Biol. Chem. 291: 998-1013.

Ha JH, Karchin JM, Walker-Kopp N, Castañeda CA, 

Loh SN. Engineered Domain Swapping as an On/Off Switch for Protein Function.  

Chem Biol

. 2015 Oct 22;22(10):1384-93.

Hang LE, Peng J, Tan W, Szakal B, Menolfi D, Sheng Z, Lobachev K, Branzie D, Feng W, Zhao X.  (2015)  Rtt107 is a multi-functional scaffold supporting replication progression with partner SUMO and ubiquintin ligases. Mol Cell.  2015 Sep 29
Deranieh RM, Shi Y, Tarsio M, Chen Y, McCaffery JM, Kane PM and Greenberg ML.  (2015) Perturbation of the vacuolar-ATPase: A novel consequence of inositol depletion.  Journal of Biological Chemistry (JBC) 2015 Aug 31
Smardon AM, Nasab ND, Tarsio M, Diakov TT and Kane PM.  (2015) Molecular Interactions and Cellular Itinerary of the Yeast RAVE (Regulator of the H+-ATPase of Vacuolar and Endosomal Membranes)  Complex. Journal of Biological Chemistry (JBC) 2015 Sep 24
Shinsky SA & Costrove MS. (2015) Unique Role of WD-40 Repeat Protein 5 (WDR5) Subunit within the Mixed Lineage Leukemia 3 (MLL3) Histone Methyltransferase Complex.  Journal of Biological Chemistry (JBC) in press
Shah NB, Duncan TM.  (2015) Aerobic growth of Escherichia coli is reduced and ATP synthesis is selectively inhibited when five C-terminal residues are deleted from the ε subunit of ATP synthase.  J Biol Chem, Jul 9; [Epub ahead of print]
Liu Y, Yu J, Oaks Z, Marchena-Mendez I, Francis L, Bonilla E, Aleksiejuk P, Patel J, Banki K, Landas S, Perl A.  Autoimmunity and disease activity may involve the liver in patients with systemic lupus erythematosus.  Clin Immunol. Jul 6; [Epub ahead of print]
Blanden AR, Yu X, Wolfe AJ, Gilleran JA, Augeri DJ, O'Dell RS, Olson EC, Kimball SD, Emge TJ, Movileanu L, ,Carpizo DR and Loh SN.  (2015) Synthetic metallochaperone ZMC1 rescues mutant p53 conformation by transporting zinc into cells as an ionophore.  Molecular Pharm 87: 825-831.
Blanden AR, Yu X, Loh SN, Levine AJ, Carpizo DR.  (2015) Reactivating mutant p53 using small molecules as zinc metallochaperones: awakening a sleeping giant in cancer. Drug Discov Today. Jul 20; [Epub ahead of print]
Shinsky SA, Monteith KE, Viggiano S and Cosgrove MS. (2015) Biochemical reconstitution and phylogenetic comparison of human SET1 family core complexes involved in histone methylation.  Journal of Biological Chemistry (in press).
Hoffman E, McCulley A, Haarer B, Arnak R and Feng W. (2015) Break-seq reveals hydroxyurea-induced chromosome fragility as a result of unscheduled conflict between DNA replication and transcription. Genome Res. Jan 21. pii: gr 180497.144. [Epub ahead of print]
Allepuz-Fuster P, Martinez-Fernandez V, Garrido-Godino AI, Alonso-Aquado S, Hanes S, Navarro F and Calvo O. (2015)  Rpb4/7 facilitates RNA polymerase II CTD dephosphorylation.  Nuc Acids Res 42:13674-88.
Presentations
Nilda Alicea-Velazquez and Ashley Canning both presented posters at a meeting entitled: Epigenetics in Cancer: Translational Medicine Approaches, which was hosted by the NY Academy of Sciences. Both won an Outstanding Presentation prize!  Ashley was also one of three students selected to give a "DataBlitz" talk.
Steve Hanes gave a talk on the Bin3 Methyltransferase at the 4th International Meeting on La and Related Proteins (LARPs) in Wiltshire, UK on September 15, 2016.  He also presented a seminar on the Ess1 Prolyl Isomerase at the Department of Biochemistry, Oxford University, UK on September 19, 2016
Sergio Couoh-Cardel presented at the Gordon Research Conference, Synaptic Transmission, held in Waterville Valley, NH, August 14-19, 2016.  His poster title was: "The V-ATPase c-ring acts as an ion-conducting pore suggesting a direct involvement in neurotransmitter release".  Sergio was also the discussion leader in a session titled: Presynaptic Mechanisms of Neurotransmission
Michael Cosgrove gave a seminar at the Mayo Clinic in Rochester, MN, for their Molecular Pharmacology and Experimental Therapeutics visiting faculty member seminar series.  The talk was on January 8, 2016 and entitled "Molecular Mechanisms for the assembly and regulation of the MLL core complex".
Wenyi Feng presented "Novel Function of the Fragile X Mental Retardation Protein in Genome Stability" at the 2015 Eukaryotic DNA Replication & Genome Maintenance Conference, Cold Spring Harbor, NY, September 2015.
Stephen Shinsky presented a poster entitled "A non-active-site SET domain surface crucial for the interaction of MLL1 and the RbBP5/Ash2L heterodimer within MLL family core complexes" at the ASBMB Special Symposia on Transcriptional Regulation Chromatin and RNA Polymerase II in Snowbird, Utah on October 2-6, 2014.
Tom Duncan gave a seminar on June 10, 2014 at the Wadsworth Center (Albany, NY) entitled "How the Bacterial ATP Synthase Jams Its Own Gears - A Potential Target for Antibiotic Development?". He was invited by Dr. Kathleen McDonough. His graduate student, Naman Shah, also visited to work in McDonough's lab and initiate a collaboration to study the importance of regulation by subunit e in the critical role of ATP synthase for viability and virulence of Mycobacterium tuberculosis.
Departmental Newsletter
All newsletters are in Adobe Acrobat format.