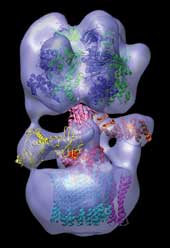 Electron Microscopy reconstruction of the yeast vacuolar ATPase. Ribbon models for individual protein subunits have been fit to the electron density.
From the lab of Stephan Wilkens, PhD.
Content
Faculty
Andrea S Viczian, PhD
Current Appointments
Hospital Campus
Research Programs and Affiliations
Biochemistry and Molecular Biology
Biomedical Sciences Program
Neuroscience Program
Ophthalmology
Education & Fellowships
Postdoctoral Fellow: University of Cambridge, Cambridge, England, 2002, Developmental Biology
Postdoctoral Fellow: Marshall-Sherfield Fellow, University of Cambridge, 1999, Developmental Biology
PhD: University of California at Los Angeles, 1998, Neuroscience
Research Interests
Mammalian retinal stem cells formation; molecular mechanism of retinal cell fate decisions; using cell replacement therapy to heal the blinded eye.

Associations/Memberships
Association for Research in Vision and Ophthalmology (ARVO)
Web Resources
Publications
Link to PubMed

(Opens new window. Close the PubMed window to return to this page.)
Research
For more information about my lab research interests, please follow this link:
http://www.centervisionresearch.org/Investigators/Andrea-S.-Viczian-Ph.D
Faculty Profile Shortcut: http://www.upstate.edu/faculty/vicziana
---
Emeritus Faculty
SUNY Distinguished Professor Emeritus
Professor Emeritus