Bibhuti N Singh, PhD
Current Appointments
Hospital Campus
Clinical Section Affiliations
Obstetrics and Gynecology: Reproductive Endocrinology and Infertility
Research Programs and Affiliations
Biochemistry and Molecular Biology
Education & Fellowships
PhD: Michigan State University
Postdoctoral Fellow: SUNY Upstate Medical Center
Research Interests
Molecular mechanisms of glycoconjugate in host-parasite interaction, roles of galectins in modulating genital mucosal cells immunity and host receptors for parasite glycoconjugates

Research Abstract
The trichomonad parasites, Trichomonas vaginalis (TV) and Tritrichomonas foetus (TF) cause major sexually transmitted infections (STI) (trichomoniasis) in humans and cattle, respectively. The ability of parasites to adhere to host cells plays integral roles in establishing infections and initiate inflammatory responses. Such interactions are mediated by cell surface glycoconjugates. Trichomonads possess novel lipophosphoglycan (LPG) type glycoconjugates anchored on the cell surface (~3X106 copies of LPG/parasite) via an inositol linked phosphoceramide. These molecules are antigenically unique and thus are ideal candidate antigens for development of a diagnostic test as well as to study pathobilogy/pathobiochemistry of trichomonas infections. In previous studies we also showed that cysteine proteases from TV (CP30) and TF induced apoptosis in respective host cells and proposed that CPs play roles in parasite pathogenesis.
Currently, we focused our attention in defining the molecular and biological significance of the LPG molecule in TV because of its impact on human health. Trichomoniais poses serious medical, social, and economic burdens especially for women and children. Infection has been linked to increased incidence of HIV-1 transmission, pre-term delivery, low birth weight, cervical cancer and vaginitis. LPG is the predominant cell surface glycoconjugate of TV parasites that plays role in adhesion and mediates host inflammatory responses to infection. The ceramide phospho-inositol glycan core (CPI-GC) of the LPG molecule is responsible for eliciting molecular signaling events by human vaginal and cervical epithelial cells. LPG and CPI-GC contain terminal non-reducing β-Gal and N-acetyllactosamine repeats, which offer the molecular basis for interactions with β-galactoside binding lectins e.g. galectins. Galectins have emerged as universal modulators of host immunity capable of regulating multiple HIV infection events. Our goals for Project 1 are:
Elucidate the complete structures of CPI-GC from the wild type TV and TV-mutant parasites by using various chemical and enzymatic methods followed by mass spectrometry (with Dr. C.E. Costello, B.U.School of Medicine, Boston) and NMR analyses Mutant TVs have altered monosaccharide compositions in LPG having reduced amounts of Gal and GlcNAc. Structural characterizations are important in identifying novel enzymes involved in CPI-GC assembly. It would also provide precise molecular interactions of galectin binding and immune functions.
Kinetics of galectin binding to CPI-GC and galectin binding to TV and TV-mutant parasites.
Roles of galectins as vaginal innate immunity modulators and identification of signaling pathways in the cervicovaginal epithelial cells in context of normal and BV-associates microflora; and along with the examination of LPG/CPI-GC sub-domains involved in signaling to human vaginal and cervical epithelial cells are being studied in collaboration with Dr. R.N.Fichorova, Brigham & Women's Hospital, Harvard Medical School, Boston.
Project 2: Our recent data (with Dr. R. Fichorova, and Dr. Max L.Niebert, Harvard Medical School, Boston) indicate that clinical TV isolates from women with vaginitis contained specific viruses (TVVs) and these isolates showed induced inflammatory response in genital tract epithelial cells, and also resistance to a drug, metronidazole. Our goals are: a) to examine molecular determinants of TVV parasite- host interactions with impact on vaginal epithelial immune function, b) define genetic and biochemical characteristics of TVVs with impact on TV virulence and vaginal immune function, and c) examine clinical prevalence of distinct genotypes and molecular characterization of TVVs with relevance to drug resistance and occurrence of co-infections. TV isolates will be collected from women presenting TV symptoms at the Onondaga County STD-Clinic (with Dr. Britta Danman, Department of Medicine) and University Hospital Clinic, cultured (with Dr. David Beach, Microbiology Department) and will be evaluated for drug susceptibility/resistance.
Selected Publications
Singh BN, Hayes GR, Lucas JJ, Sommer U, Viseux N, Mirgorodskaya E, Trifonova RT, Sassi RRS, Costello CE, Fichorova RN. Structural details and composition of Trichomonas vaginalis lipophosphoglycan in relevance to the epithelian immune function. Glucoconjugate J 26: 3-17 (2009)
Fichorova RN, Trifonova RT, Gilbert RO, Beach DH, Costello CE, Hayes GR, Lucas JJ, and Singh BN. Trichomonas vaginalis lipophophoglycan triggers a selective unregulation of cytokines by human female reproductive track epithelial cells. Infect, Immun. 74, 5773-5779 (2006)
Kummer S, Hayes GR, Gilbert RO, Beach DH, Lucas JJ, Singh BN. Induction of human host cell apoptosis by Trichomonas vaginalis cysteine proteases is modulated by parasite exposure to iron. Microb Pathog. 44: 197-203 (2008)
Lucas JJ, Hayes GR, Kalsi HK, Gilbert RO, Choe Y, Craik CS, Singh BN. Characterization of a cysteine protease from Tritrichomonas foetus that induces host cell apoptosis. Arch. Biochem. Biophys. 477: 239-243 (2008)
Sommer U, Costello CE, Hayes GR, Beach DH, Gilbert RO, Lucas JJ, Singh BN. Identification of Trichomonas vaginalis cysteine proteases that induce apoptosis in human vaginal epithelial cells. J Biol Chem 280: 23853-23860 (2005)
Faculty Profile Shortcut: http://www.upstate.edu/faculty/singhb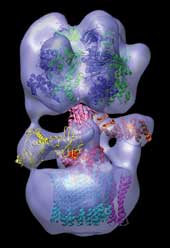 Electron Microscopy reconstruction of the yeast vacuolar ATPase. Ribbon models for individual protein subunits have been fit to the electron density.
From the lab of Stephan Wilkens, PhD.