William G Kerr, PhD
Current Appointments
Hospital Campus
Research Programs and Affiliations
Biomedical Sciences Program
Cancer Research Institute
Microbiology and Immunology
Pediatrics
Research Pillars
Education & Fellowships
Postdoctoral Fellow: Stanford University, 1993, Genetics
PhD: University of Alabama at Birmingham, 1987, Molecular & Cellular Biology
BS: Lehigh University, 1982, Chemistry/Molecular Biophysics
Research Interests
Transplant immunology and stem cell biology.

HealthLinkOnAir Radio Interview
2/27/13 Upstate researchers look for new treatments for Crohns disease
Faculty Profile Shortcut: http://www.upstate.edu/faculty/kerrw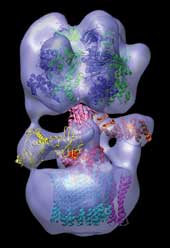 Electron Microscopy reconstruction of the yeast vacuolar ATPase. Ribbon models for individual protein subunits have been fit to the electron density.
From the lab of Stephan Wilkens, PhD.