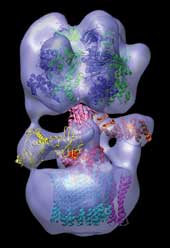 Electron Microscopy reconstruction of the yeast vacuolar ATPase. Ribbon models for individual protein subunits have been fit to the electron density.
From the lab of Stephan Wilkens, PhD.
Content
Faculty
William G Kerr, PhD
Current Appointments
Hospital Campus
Research Programs and Affiliations
Biomedical Sciences Program
Cancer Research Program
Microbiology and Immunology
Pediatrics
Education & Fellowships
Postdoctoral Fellow: Stanford University, 1993, Genetics
PhD: University of Alabama at Birmingham, 1987, Molecular & Cellular Biology
BS: Lehigh University, 1982, Chemistry/Molecular Biophysics
Research Interests
Transplant immunology and stem cell biology.

Clinical Trials
Analysis of SHIP1 deficiency in a pediatric IBD cohort
Read more
HealthLink on Air Radio Interview
Faculty Profile Shortcut: http://www.upstate.edu/faculty/kerrw
---
Emeritus Faculty
SUNY Distinguished Professor Emeritus
Professor Emeritus