Dimitra Bourboulia, PhD
Current Appointments
Hospital Campus
Research Programs and Affiliations
Biomedical Sciences Program
Research Pillars
Urology
Education & Fellowships
Fellowship: National Cancer Institute, NIH, Bethesda, MD, 2013
Fellowship: University of London, UK, 2007
PhD: University of London, UK, 2004
Previous Appointments
National Institutes of Health, 2007–2013
University of London, UK, 1999–2007
Research Interests
* Cancer Biology and Cell Signaling

* Molecular mechanisms of tumor invasion and metastasis

* Prostate cancer development and progression
Languages Spoken (Other Than English)
Publications
Link to PubMed

(Opens new window. Close the PubMed window to return to this page.)
Research Abstract
Matrix Metalloproteases (MMP) are involved in tumor angiogenesis, invasion and metastasis. MMP are inhibited by a family of endogenous proteins, the Tissue Inhibitor of Metalloproteases or TIMPs. TIMP-2 is not only a natural occurring inhibitor of MMP, but also an inhibitor of tumor cell growth, migration, invasion and tumor angiogenesis, independently of MMP inhibitory activity.
Studies have suggested that MMP/TIMP balance is shifted towards MMP activation during cancer progression and metastasis. In addition, epigenetic inactivation of TIMP-2 promoter, i.e. hypermethylation, occurs in several cancers including prostate tumors leading to downregulation of TIMP-2 levels. It is, therefore, essential to determine how TIMP-2 is regulated, to mechanistically understand the tumor inhibitory effects. My current studies are focused on TIMP-2 post-translational regulation and how this regulation affects TIMP-2 anti-tumoral and anti-angiogenic properties in epithelial cancers, and in particular, urological malignancies.
Faculty Profile Shortcut: http://www.upstate.edu/faculty/bourmpod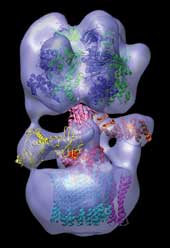 Electron Microscopy reconstruction of the yeast vacuolar ATPase. Ribbon models for individual protein subunits have been fit to the electron density.
From the lab of Stephan Wilkens, PhD.