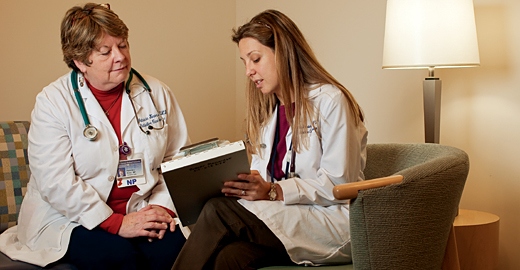 Content
About Advanced Practice Services
What is Advanced Practice?
An advanced practice professional is a provider with advanced education, knowledge, skills, and scope of practice. Advanced Practice Services defines a level of practice that utilizes extended and expanded skills, experience and knowledge in assessment, planning, implementation, diagnosis and evaluation of the care required.
Advanced Practice Professionals are most often educated at the graduate level and may work in either a specialist or generalist capacity. However, the basis of Advanced Practice is the high degree of knowledge, skill and experience that is applied within the patient relationship to achieve optimal outcomes through critical analysis, problem solving and evidenced based decision making.
Nurse Practitioner (NP)
Nurse Practitioners (NPs) are advanced practice nurses who provide high-quality healthcare services similar to those of a physician.
Physician Assistant (PA)
Physician Assistants (PAs) are health care professionals who practice medicine as members of a team with their supervising physicians.
Nurse Anesthetist (CRNA)
Certified Registered Nurse Anesthetists (CRNAs) are advanced practice nurses who specialize in anesthesia care.
New York State Licensed Midwife (CNM or CM)
New York State Licensed Midwives are health care providers who may care for the health needs of pre-adolescent, adolescent and adult women throughout their life span.
What is an Advanced Practice Nurse
The term advanced practice nurse refers to registered nurses who have gained advanced preparation for expanded clinical practice by earning a master's degree in nursing. Their specific training and skills make them different than other registered nurses. Advanced Practice Registered Nurse (APRN) roles include Certified Registered Nurse Anesthetists (CRNAs), Certified Nurse-Midwives (CNMs), Clinical Nurse Specialists (CNSs), and Certified Nurse Practitioners (CNPs).